Reading & Writing
Reading
Through the teaching of whole class guided reading, we promote a love and enjoyment of fiction and non-fiction books. Children have the opportunity to explore a wide range of genres and will develop in their skills to retell stories, make inferences, deductions and predictions and develop their vocabulary. Teachers celebrate the books they are reading through classroom displays which the children can add their own ideas and predictions to. These displays help make the story visual for the children and will include questions and vocabulary linked to their book.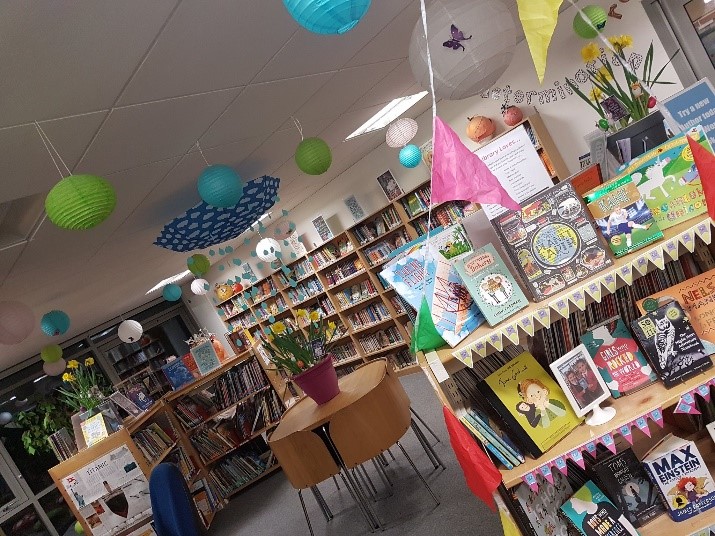 We also promote a love of reading through our Reading Buddy system. Across the school, each class is paired with another class in a different key stage. The pairs meet once a week to share and enjoy a story together.
In our English lessons, we study a wide range of books, authors, outdoor learning experiences and other media such as animations as tools to inspire writing. Our teaching of handwriting, spelling and grammar is embedded into our teaching across the curriculum, with vocabulary and grammar word mats available for all children in across subjects. By the end of Year 2, all children should be writing cursively and maintaining legibility with longer pieces of writing.
Across the school, we take part in whole school writing projects which engage children from Early Years through to Year Six. We celebrate the children's work with fun displays around the school and share examples of work in our Friday worship.
Spoken Language
Throughout our English units, children will have the opportunities to explore stories and books through a range of drama techniques. As a school, we understand the importance of drama to encourage the development of an active, vivid imagination to support all areas of learning, understanding and engagement. Every child will have the chance to perform in a class assembly each year and children are given many opportunities to speak or present in worship. At the end of Year Six, the whole year group puts on a production, using their knowledge of play-scripts and acting to perform to their audience.